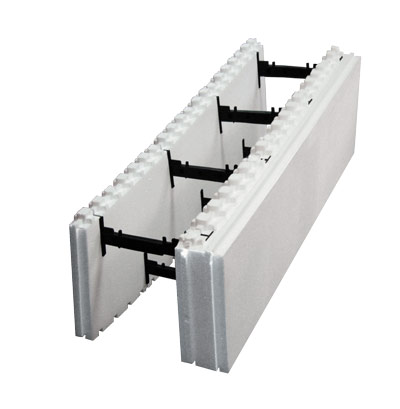 Thermoblock with adjustable width TM "Valkyria" "100x50" - the solution №1 to obtain rates close to the standards of modern "passive" house!
Characteristics:
The new thermoblock from TM "Valkyria" consists of 2 walls of EPS120 interconnected by plastic crosspieces that allow you to change the total width of the structure.
The minimum width of a thermoblock "100x50" is 250 mm, the maximum - 600 mm.
The outer wall of the block is 100 mm thick, while the inner wall is 50 mm thick.
Number of crosspieces - 7 pcs.
Step width adjustment - 50 mm.
Structural features:
Structural feature of the 100 mm wall in the new block is a combined system of "spike-groove" and "groove-ridge" locks.
This technology completely eliminates the leakage of concrete mix in the process of pouring the reinforced "core" of the wall. It is also important that after assembling the unit, the plastic lintel is "sunk into the body" of the outer wall. This ensures that even at the lowest winter temperatures by 100% eliminates the so-called "cold bridges".
The traditional ease of processing thermoblocks to create complex architectural forms - still at a high level. This means that you, when working with the new collapsible block, as before enough hand tools (hacksaw). This advantage is appreciated by building professionals.
The new block also meets other standards and regulations in force in the construction industry in Ukraine.
Functional purpose:
Range of application of the new product is wider than that of a traditional block with adjustable inner width. The unit performs all the basic functions of a standard collapsible thermoblock.
The main purpose of development of the new thermoblock TM Valkyria 100x50 is the possibility of construction of walls with increased energy efficiency. Characteristics of a wall erected from such a thermoblock are maximally close to parameters of a "passive" (i.e. the warmest) house.
We recommend using this block for the erection of foundations in the so-called "problematic" soils. Also new block will be effective in the construction of walls on land plots with special atmospheric conditions. By these conditions we mean temperature fluctuations with high amplitude, etc.