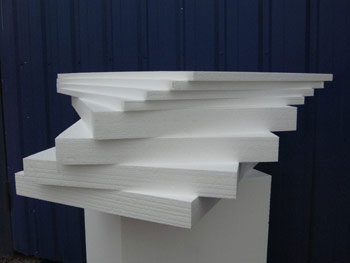 Styrofoam or expanded polystyrene is a lightweight insulation material used in construction for over 40 years.
Due to its unique insulating properties, light weight and relatively low price, this material is very popular among builders.
Styrofoam has a number of advantages over other materials:
1. Safety
When working with some building materials is necessary to use different equipment: protective coveralls, gloves, goggles, respirators.
Styrofoam is absolutely safe for health: it does not contain fibers, binders (such as some types of mineral wool), which can be harmful to the eyes, skin and mucous membranes of the respiratory tract.
Therefore, when working with it there is no need for special protective equipment.
2. Ease of use
At Styrofoam has a low bulk weight, it does not dust, is not afraid of moisture, easy to cut with a hand saw or knife, and is very easy when mechanically fastened.
Therefore, all work on the insulation with PSV-C boards is easy to learn and carried out in a short time.
3. Using
All types of roofs (flat, pitched), walls (outside and inside the building, the cavity wall), floor, basement, cold rooms - all areas of effective insulation with polystyrene sheet.
4. Soundproofing
Styrofoam has excellent sound insulating properties. Therefore, for effective sound insulation of walls, floors, roofs use PSV-C plates.
5. Durability
Studies conducted over 40 years show that PSV-C foam is really timeless insulation material, which does not change its properties (the thermal conductivity, physical and technical parameters and geometric shape).
6. Resistance to moisture
Moisture has no effect on expanded polystyrene boards. Even when immersed for a long time, it absorbs very little water. This means that during use, its quality is virtually unchanged for a long time. This is very important because excessive moisture can lead to fungus infestation and create an unfavorable indoor microclimate.
7. Does not change the color of the walls
In practice, the use of some insulation materials in the insulation of facades leads to a change in color coating of the walls. When using PSV-C boards this phenomenon is not observed. Coloration of materials near the insulation layer may be due to leaching of binding phenol-formaldehyde substances (contained, in particular, in fibrous materials). Since polystyrene foam does not contain binders, formaldehyde is not released during its application.
8. Biological inertness
If the wrong insulation is used, mold can develop in the home and air quality can deteriorate significantly. This is because some insulation materials can be affected by microorganisms. PSV-C insulation boards are not afraid of mold, mildew and bacteria.
9. Safety for health and the environment
Pentane is used for foaming polystyrene. As well as other gases - such as alkanes, methane, pentane is constantly formed in the course of natural processes occurring in nature. These gases decompose rapidly in the atmosphere.
10. Saving on heating and air conditioning
In buildings with good thermal insulation heating costs 40-70% less than in buildings without such insulation. That is why PSV-C boards not only make a house cosy in any season, but also save money on heating and air conditioning. Money invested in insulation (an average of 0.5-3.0% of the cost of a new building) pays for itself in a very short period of time.
11. Wide range of applications
Due to the technical properties, PSV-C is used for the insulation of buildings under construction, as well as for already constructed buildings. The boards are used in the construction of private cottages, multi-storey houses, warm pools, saunas, as well as refrigerated rooms. Inside buildings, foamed polystyrene sheet is used for insulation of walls (interior and exterior), floors, ceilings of the last floor, roofs (pitched and flat).
12. Economy
Due to the optimal price / quality ratio, the use of foamed polystyrene sheets is more affordable in comparison with other types of insulation (savings up to 15 - 20%).
13. Extends the life of the building
External insulation prevents significant fluctuations in the temperature of the main wall, limiting the stress and therefore the formation of cracks.